A BizBlog on Steriods!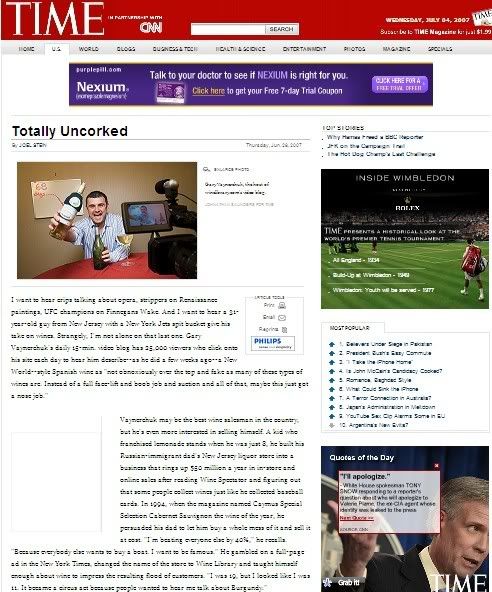 http://tv.winelibrary.com
Source: http://www.time.com/time/magazine/article/0,9171,1638446,00.html
------------------------
Vaynerchuk may be the best wine salesman in the country, but he's even more interested in selling himself. A kid who franchised lemonade stands when he was just 8,
he built his Russian-immigrant dad's New Jersey liquor store into a business that rings up $50 million a year in in-store and online sales after reading Wine Spectator and figuring out that some people collect wines
just like he collected baseball cards. In 1994, when the magazine named Caymus Special Selection Cabernet Sauvignon the wine of the year, he persuaded his dad to let him buy a whole mess of it and sell it at cost. "I'm beating everyone else by 40%," he recalls.
"Because everybody else wants to buy a boat. I want to be famous." He gambled on a full-page ad in the New York Times, changed the name of the store to Wine Library and taught himself enough about wine to impress the resulting flood of customers. "I was 19, but I looked like I was 11. It became a circus act because people wanted to hear me talk about Burgundy."
[snip]
So, What are You Waiting for?